RECIPE: Cake In A Mug Part 2, Red Velvet with Cream Cheese Frosting
Some of you may know that my daughter has become obsessed with red velvet cake. She has been asking for red velvet cake at the most inconvenient times, and when I had no buttermilk. Well, I have been appeasing her with this and that. But at the end of the day, red velvet is it's own special thing. There is no substitute. After a quick search, I found a mug cake for red velvet at a great blog called bittersweetsugarandsarcasm.com. I made some tweaks to it, kicked up the sugar and used butter versus oil. Start the mixing wet to dry, ending on flour, and mixing the flour very little. If you don't have buttermilk, 1/2 cup milk mixed with 1/2 tbsp. white vinegar or lemon juice sitting out for 2-3 minutes is all it takes to have a viable substitute. Nailing a quick red velvet cake in a mug is going to make my mommy life a little easier. And for an extra something special, a cream cheese frosting on top would be delectable! I did not show it here because monkey-girl only needs so much sugar before bed.
Red Velvet Cake in a Mug with optional Cream Cheese Frosting
4 Tbsp. flour
5 1/2 Tbsp. sugar
2 Tbsp. cocoa powder
3 Tbsp. butter
3 Tbsp. buttermilk
1 egg
1 tsp. vanilla
1/8 tsp white vinegar
1/2 1 oz. container red food coloring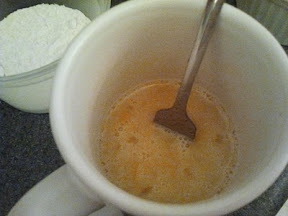 In a large ceramic mug melt the butter for 30-50 seconds at half power until melted. Add the buttermilk, sugar, vanilla and egg. Whisk vigorously with a fork. Add the cocoa and vinegar and whisk until smooth. Add the red food coloring and whisk some more until smooth and combined. Depending on the strength of your cocoa you may need to adjust the red coloring to make it the color you want.
Heat in the microwave on power of 6-7 (out of 10) for 2:30 sec. Any more and it will be dry and rubbery. Let the cake settle, then either eat it out of the mug or invert it into a bowl, broken up and eat it.
Cream Cheese Frosting
1 oz. softened cream cheese
2 Tbsp. powdered sugar
1/2 tsp. vanilla
Whip with fork until light and fluffy. Spread on cake in the mug, or heat slightly in the microwave to spoon over the mug cake inverted and broken apart in a bowl.
- Posted using BlogPress from my iPad